Most Popular Hairstyles
We all girls love to do making hairstyles and always prefer to be at the top of fashion. As we all know, change is beautiful it feels as we're alive and modification is nearly as good as a good vacation, that instantly makes us feel happy if After breakups, before new jobs, or particularly any other reason. A brand new hairstyle is an inspiration for a new beginning. A fresh new hairstyle is that the best thanks to combining things up. whereas there's nothing wrong with a solid rotation of our daily hair routine to shift straight, curls, high knots and ponytails, a wavy bob, bun, Side ponytail, Twisted and Braids, High Bun with braids, Waterfalls braids, Retro curls, Teased Up-do, Simple Half bun, Curler Half-Updo style, Pinned Backside, Dutch Braids, French Braids, Simple side Part, Crown Braids, Glamour Waves, etc that will drastically improve your hair game.
It is onerous to stay track of all the hair trends, and deciding what moves gets is intimidating. therefore to assist you up to your mane game, we've got rounded up the foremost widespread hairstyles and hair tips for all beautiful souls.
---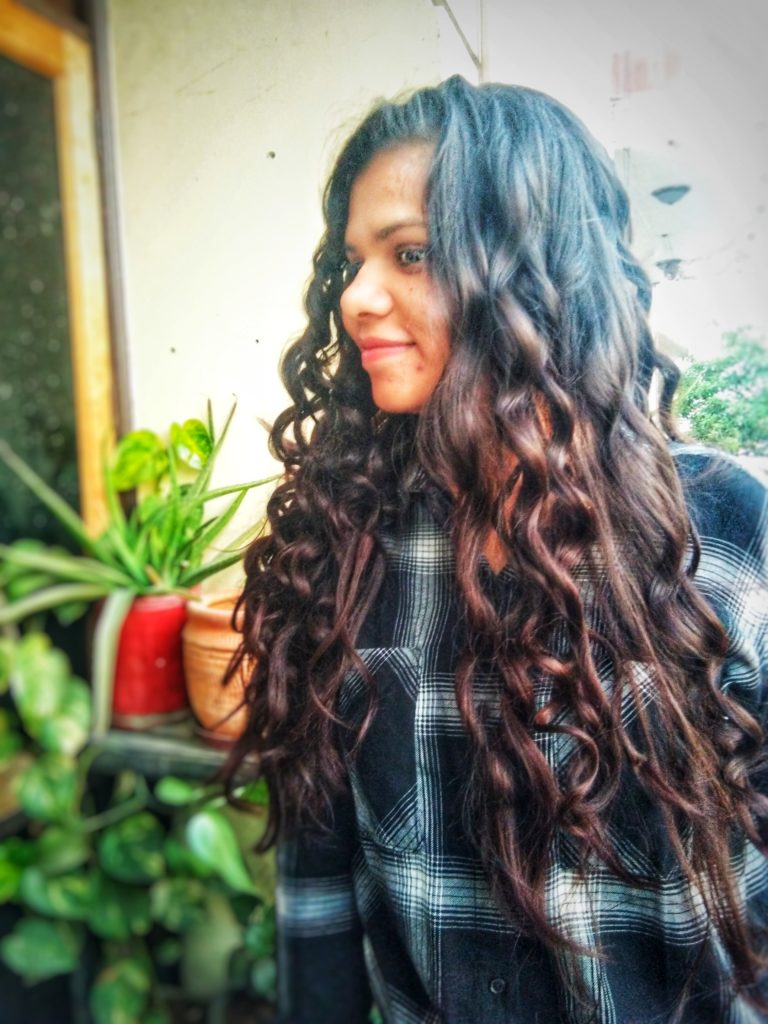 Who said bangs need to be straight? Girls don't neglect your naturally curly hair, Curly girls can go long, and most beautiful. if you have sleek hair so Just need a curler with hairspray and make your beautiful hair into sexy hair and avoid frizz and dryness use aloe-Vera gel before curling.
The straight look is always looking charming & decent. It is beautiful on its own and doesn't require a lot of fuss to look good.
How to get?
To make this look you just need a straightener along with hair serum and if you want to avoid damages just used anti-heating cream of any brand before straightening.
One of the favorite easy braided hairstyles of every girl is Dutch Braid and it's also known as a reverse braid.
How to get?
To Dutch braid, your hair first separates your hair into two parts like a top section and a bottom section. Hold the top section with both hands, and let the bottom section hang down. Then, divide the top section of your hair into 3 equal strands. … Finally, secure the braid with a hair tie when you get to the end, and you're done.
An all-time favorite of every beautiful soul. We promise that even hair beginners can pull off these messy, romantic, and easy braided hairstyle ideas.
How to make?
firstly do the side partition and tie your hair on one side and use a brush to for backcombing and take hair to one side into a low ponytail then separate a small section of the top into two parts. Take a thin section of underneath each side and cross them over each other. Do the same thing in a whole ponytail the in the last pull the side section in the upward direction to give the perfect look ad in the last tie it with a thin rubber band.
Braids are the love of life, why we will miss it out? Let's start!
How to make?
If you have long hair, styling a casual crown braid undo is very easy. Pull your strands back for a low braid and make a simple three-strand plait. Wrap around the head and secure with hairpins abstaining from any sort of setting spray if you want a wispy, romantic look the decor it with tulips it will look very splendid & beautiful.
How to make?
Firstly do the side partition of your hair then curls the lower portion of your hair with thick curler of 3/4 inch. Then use hair spray to set it out. Take the small side portion of hair and split it into three parts and make a simple usual braid and take it into the other side. Make the side portion like a flower by rotating it into a circular direction. Decor by your favorite small flowers or any other accessories.
Turn yourself into Frida Kahlo, the famous Mexican painter.
How to make flower crowns?
Ribbon
Flowers
Aloe-Vera Gel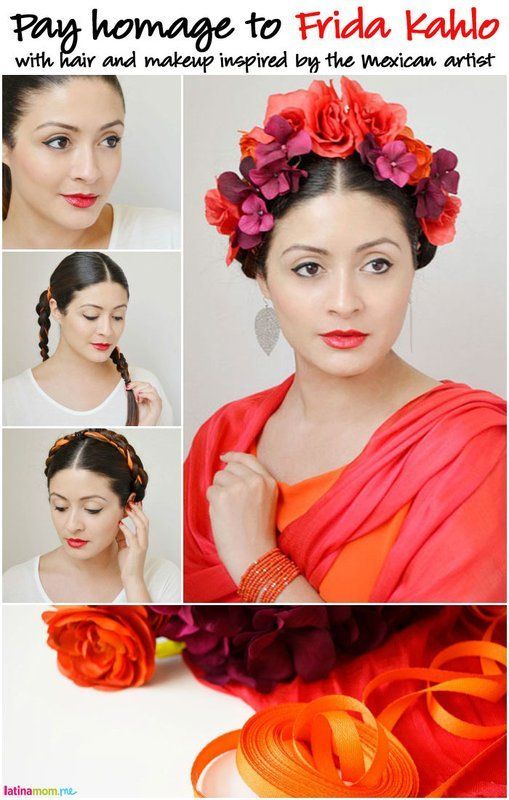 Messy Open Hair with Small Bids
Is today your most awaiting date? Are you looking for a hairstyle for your special day? No need to worry! make this stunning hairstyle to make your day perfect.
How to make?
Curler
Hairspray
Flowers
Bids
Curl your hair from the top and use the hairspray to set it perfectly. Take the small section of each side and rotate it and cross it from the other side. Do it at least three rotation then decor it with ready-made flowers and use the bids into the lower section of your hair. Spray the whole hair for the perfect look.
Who doesn't love bun, I think every girl love this hairstyle. It makes you feel comfortable & stylist in the summer season.
How to get?
Gajra(Flowers)
Hairspray
Curler
Divide your hair into three sections: front left, front right, and back. Gather your hair in the back into a basic bun, and then loosely twist sections from the front back toward your bun. Use bobby pins to pin them in place. Finish by pulling out face-framing pieces at the front. Decor the bun with beautiful Gajra and take out the small section from the front and curl them nicely.
Scrunchies Scarf Hairstyle
Inspired by beautiful, young & very talented actress @ananyapanday Look ♥ ♥ .
How to make?
This hairstyle is very simple and attractive in today's world. You just need to do the front partition and take back your half hair into the backside and make a small knot and tie it with the scarf. To look at this hairstyle attractive backcomb from the front side hair and take the small section from your ears of both sides leave it free. In the end, just spray your hair to fix it properly.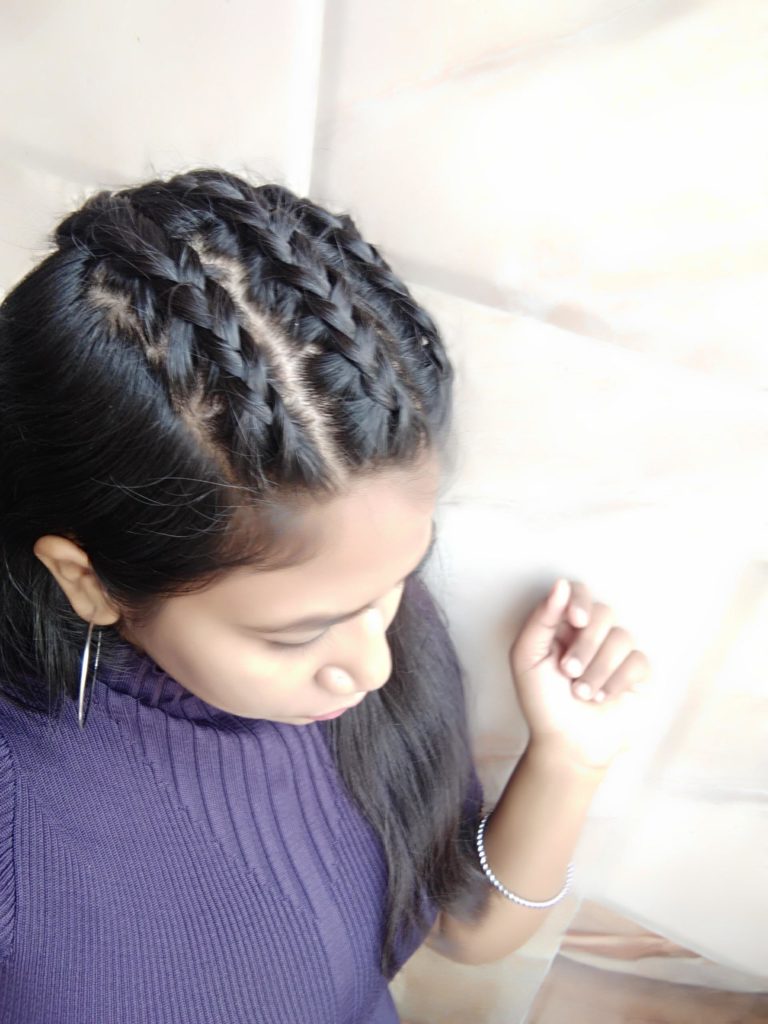 It's also known as a hippie hairstyle. This hairstyle is the most popular and it looks damn attractive.
How to Get?
Wash your hair & untwine it and do the blow dry for a neater look.
Part your hair in rows from front to back. 
Divide the first row into 3 small sections with your fingers: a left section, center section, and right section.
Start usual braiding, and add a bit of edge control along your hairline.
Create your first usual french braid stitch.
Add a small section of hair from the row underneath to each braid stitch.
Finish the braid once it's off your scalp and secure it with a rubber band or bobby pin. 
Messy High Bun with Maang Tikka
Maang tikka hairstyle is very famous and trending hairstyle in every wedding. All girls are confused how to wear maang tikka in a creative ways. But don't worry we are here to help you in that.
How to make?
Maang Tikka
Curler
Hairspray
Bobby pins
Juda Pins
Here is some simple steps to create it easily.
Firstly Make the curls of your hair with a 3-inch curler from top to bottom of your hair.
Then do the front partition of your hair.
Put the maang tikka in the middle of your head.
Take back your front hair gently and create a puff.
Secure puff with bobby pins.
Make a high ponytail with and leave some small section of your hair on the bottom side.
Make a loose bun with your ponytail and secure it with judda pins and curls the loose hair with the help of a curler.
Take the small section of curly hair and roll it in the circular direction and put it on the bun and secure it with the help of Judda Pins.
Similarly, do the same with the remaining hair. Now we have done it.
Messy updos are incredibly attractive!
You can make hairstyles like messy updos with straight hair, curly hair messy updos, messy updos with short hair, messy updo styles for wavy thick hair, etc. in the collection. It doesn't matter whether you have short, medium, long, thin, thick, curly, wavy, or straight hair- there are awesome messy updo hairstyles for all hair types!
Thick curler
Hairspray
Bobby pins
Updos hairstyle you can wear anytime or anywhere. It makes your Perfect look & garbs the attention of others.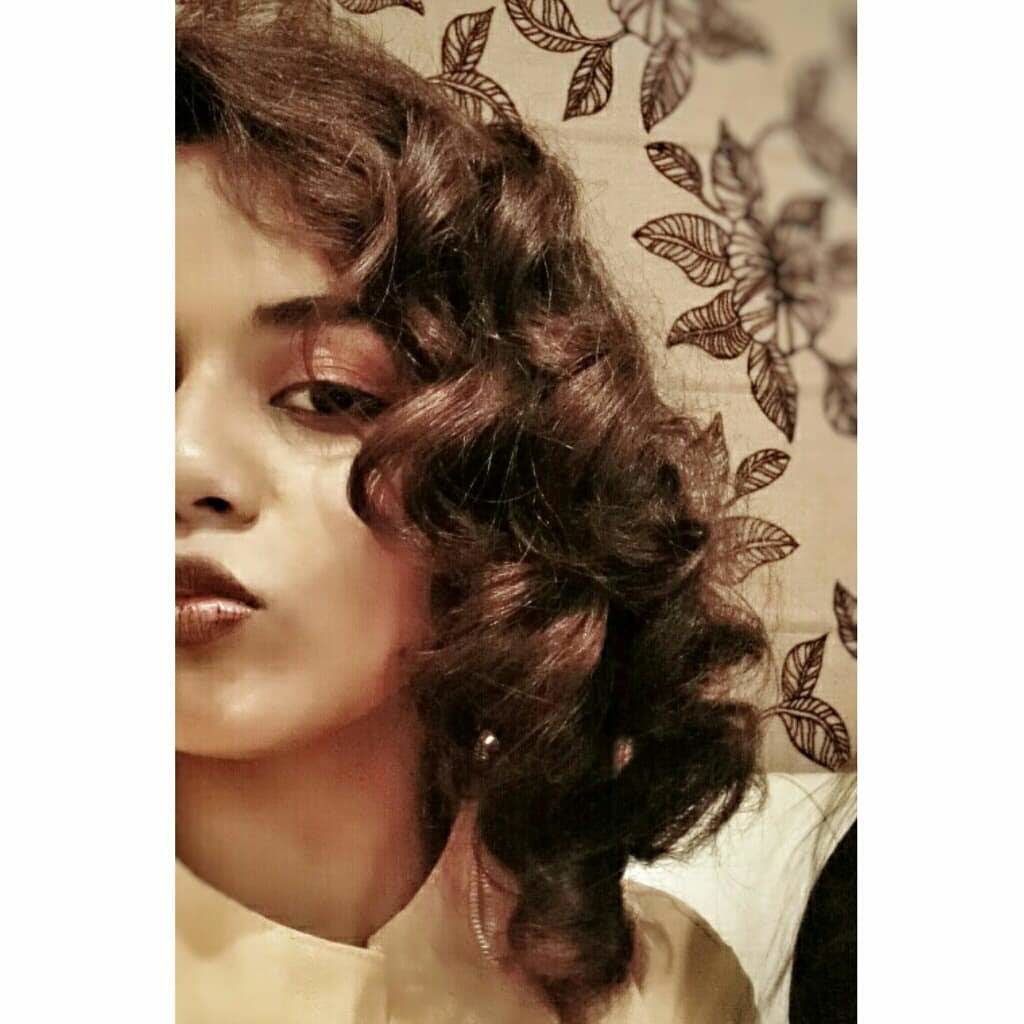 Inspired by 90's Hairstyles!
How to make?
Beginning at the top of the head (near the part), take a section of hair and make curls and spray the underside with hair spray.
Tease the underside of the hair and continue down until all of the hair is teased.
Pages: 1 2